Introducing Rachel Flowers' second solo album: Going Somewhere. Inspired by some of Rachel's favorite artists, an eclectic group of greats, including Kirk Franklin, Talking Heads, Steely Dan, Stevie Wonder, and Prince, Rachel truly goes somewhere only she can go, taking a grateful audience along for the ride.
---
Compact disc and digital download available on

Digital download available on


---
---
All songs composed by Rachel Flowers (ASCAP) except In the Middle of the Night and Here to Stay composed by Brian Hutchison (BMI) and Rachel Flowers (ASCAP).  All vocals and instruments performed by Rachel Flowers except In the Middle of the Night – guitar solo by Brian Hutchison.
Rachel would like to thank Brian Hutchison, Matt Levonian, Joe Ierardi, Fred Flowerday, Mom, and Dad. Jeanie would like to thank Vaughan Flowers, Max Houkes, Ellie Schwartz, Lorenzo DeStefano, Robert Minsk, Jerry LoFaro, David Kalman, and Stephanie Trasoff.
Record Producer: Rachel Flowers
Executive Producer: Jeanie Flowers
Project Manager: Robert Minsk
Art Director: Jerry LoFaro
Technical Advisor: Brian Hutchison
Mixed and Engineered by Rachel Flowers
Mastered by Brian Hutchison
Album Art by Jerry LoFaro – jerrylofarodesigns.com
Photography by Marie Gregorio-Oviedo
℗©2018 Rachel Flowers Music
---
Keyboards
Nord Piano 2 HA88: 2, 4, 5, 7-13
Nord Electro 4D: 3-10
Yamaha MO6: 5, 7, 8, 11
Guitars
Yamaha NTX700 Classical: 1
Fender Stratocaster: 1
Marblehead Imperial: 3, 5, 7, 10, 12, 13
Ibanez Gio MiKro w/Sustainiac: 3-6, 8, 9
Basses
SX 4-String: 1-5, 7, 10, 12, 13
Brice 5-String: 6, 9, 11
Sample Libraries
Nord Sample Libraries: 2-13
Synthogy Ivory: 3, 9
Garritan Personal Orchestra 5: 6
EastWest Hollywood Strings: 1, 3, 11, 13
EastWest Hollywood Brass: 3, 11, 13
Vienna Symphonic Library: 7, 11
Percussion Libraries
Sonar DropZone: 1
Garritan Jazz & Big Band: 1, 5, 11
Sonar Session Drummer: 2-13
Nord Sample Libraries: 11
Amplifiers
Line 6 Bass POD: 1-7, 9-13
Line 6 Guitar POD: 6-10, 13
Vox Valvetronix VT20X: 1, 3-5, 10, 12
Other gear
Muramatsu EX Flute: 5, 12
Egg Shakers: 4
Lewitt Microphones: 1-13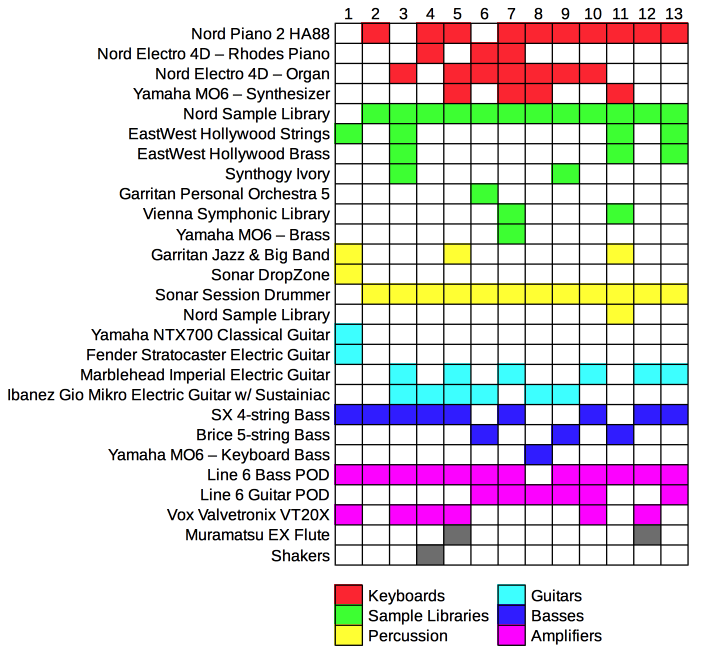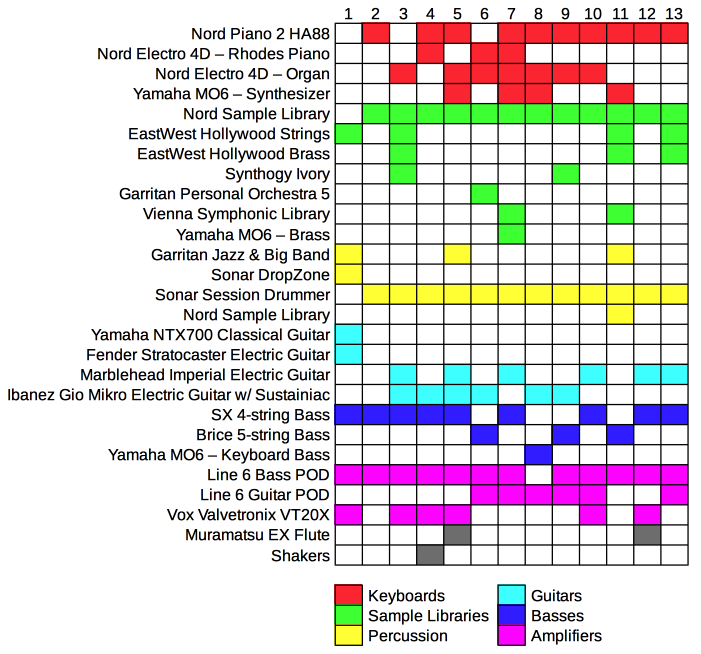 In the Middle of the Night

7