It's been over a week since I learned about the passing of Keith Emerson. It's time for me to tell my story.
I wish I could say that we knew Keith well, and that we had many memories of all our times together. Truth is, even though in many ways he was ever present in our lives, we only got to actually meet him a few times.
Before Rachel met Keith, people were continually speculating on how it would happen, making suggestions, and all hoping to somehow be in on the big meeting, preferably with a film crew on hand. But it didn't happen that way at all.
Our friend Paul Mouradjian contacted me one day, very excited. He told me that Keith was going to be at the Typhoon Restaurant in Santa Monica on September 8, 2013 to conduct the premier of one of his pieces with the Orchestre Surreal. Paul made the reservations, sent me the address and all the details. We arrived early, of course. I parked the car, and we walked up the stairs to the venue, which was on the 2nd or 3rd floor, and just as we turned the corner to find the doorway… who comes walking out but Keith Emerson.
Yes, Rachel and Keith's first meeting happened in a stairwell.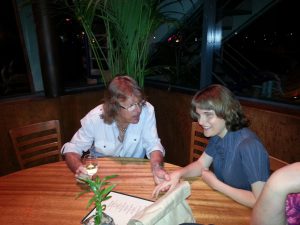 He looked at Rachel, recognized her immediately, and said something to the tune of, "Well, hello Rachel! How are you, darlin'?" Rachel giggled, recognizing his voice instantly. They hugged and spoke for a moment. He invited us to sit at his table, but having been invited by Paul, I didn't want to be rude to our host… though I know Paul will read this and say, "Jeanie!! Why didn't you??" Possibly he will smack me upside the head. Well, hindsight and all that.
That was Rachel and Keith's first meeting. Not at all the way a lot of people hoped or imagined it would be. To me, it was perfect.
I remember that moment so well.
Just as special to me was the last time I met Keith. It was January 2016 and we were at NAMM. It was the end of the day, and we were pushing our way through the throngs of people coming and going through the Hilton Hotel lobby. Graham Nash was singing outside. We had just passed Leland Sklar on the sidewalk, posing for pictures with his many fans. We were on our way to make an appearance at a private reception being given by American Music & Sound, who distribute Nord Keyboards in North America. Rachel and Brian were walking just ahead of me, kind of parting the crowd in our mission to find the elevators. The noise was oppressive – a physical entity that numbed the senses. I was trying not to lose track of Rachel in the crowd, when I thought I heard someone call out to me – I don't know if I heard my name, or just a voice saying, "Hey!" but when I felt a hand grab me by the arm I stopped and turned around, and by god if it wasn't Keith Emerson standing there, with a smile that could outshine the sun.
To this day I still marvel at the fact that Keith Emerson stopped me in that crowd of people. Somehow he recognized me.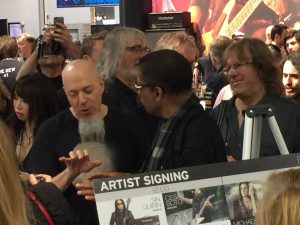 He gave me a hug, and I turned to get Rachel before she was swallowed up by the waves of people. I felt bad because she was exhausted, and with the noise she could barely hear me tell her who I was dragging her to say hello to. We spoke only for a few moments, and Keith said he was just checking in and had to go, and we hoped to connect again during the next few days. We passed him once, at the Korg booth where he was doing an autograph signing – I got a terrible picture of him with Herbie Hancock and Jordan Rudess and a couple of other well known keyboardists… but really, when Keith Emerson is there, who else would I notice? And we didn't get to connect again that trip.
I will always remember that smile, and the fact that this larger than life rock god recognized me, and took the time to chat with me… about things like learning to play the ukulele at the Santa Monica Senior Center – I can't even think of him as a senior citizen. He's freakin' Keith Emerson! Hearing him talk to Rachel about working on the Doors tribute album… seeing him sign his conductor's baton after the concert at the Typhoon Restaurant and hand it to Rachel… but mostly I remember that smile. That is how I will always think of Keith.
Jeanie Flowers